Your teen can get ahead—now.
Next Start Date: March 14, 2023
At MBU, we want what you want: an affordable, time-saving educational experience—from a biblical worldview. Discover the difference MBU dual enrollment can make for your high school student and your family! Take college courses now. Save money with our 60% class discount. And save time by earning college credit this fall!
Only $175 per credit hour
= a 60% tuition discount
Possible college tuition savings = more
than $30,000 
Complete the form below to save time
& money now.
$175 Per credit
If you're a dual enrollment student, you will pay only $175 per credit in tuition after automatically receiving a discount of more than 50% off the tuition for college courses you take online.
Compare your savings of dual enrollment online over attending on the residential campus:
Note: Estimated savings based on current tuition and fee rates at 16 credits per semester. Does not include textbooks/materials.
Financial Details
In addition to the tuition, there is a $35 per course fee, and students are responsible for purchasing their own textbooks and materials. Student bills may be paid through the Finances tab of MyMaranatha (only accessible after admission).
Federal financial aid is not available to students who have not yet graduated high school, and the 50% tuition discount is the only university financial assistance available to dual enrollment students. Any other external funding is, however, accepted by MBU.
Payment and refund policies are as follows:
Tuition and fees are due in full at least 7 days prior to the beginning of each course.
The Comprehensive Fee is non-refundable.
Students who withdraw after a course has started will be charged a $15 Add/Drop Fee.
Students who withdraw from a course will have tuition refunded based on the following schedule:

Drop prior to start date: 100%
Week 1: 75%
Week 2: 50%
Week 3: 25%
Week 4+: 0%

Exceptions to the refund policy are made for distance classes as required by statute for students completing coursework in certain states.
Maryland Refund Schedule:
8-week Course (A or B Sessions)

Days 1-6: 90% refund
Days 7-11: 80% refund
Days 12-16: 60% refund
Days 17-22: 40% refund
Days 23-33: 20% refund
Day 34+: 0% refund

12-week Course (C Session)

Days 1-9: 90% refund
Days 10-17: 80% refund
Days 18-25: 60% refund
Days 26-33: 40% refund
Days 34-49: 20% refund
Day 50+: 0% refund

16-week Course (D Session)

Days 1-11: 90% refund
Days 12-22: 80% refund
Days 23-33: 60% refund
Days 34-44: 40% refund
Days 45-66: 20% refund
Day 67+: 0% refund
Oregon Refund Schedule:
8-week Course (A or B Sessions)

Week 1: 75%
Week 2: 50%
Week 3: 25%
Week 4: 5%

12-week Course (C Session)

Days 1-11: 75%
Days 12-21: 50%
Days 22-32: 25%
Days 33-41: 5%

16-week Course (D Session)

Weeks 1-2: 75%
Weeks 3-4: 50%
Weeks 5-6: 25%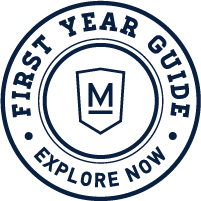 Do Both Now—High School & College
Take just one class. Gain confidence about the college experience.
Complete a full year of college work. Get ahead on required first-year classes.
Or earn an associate's degree. Finish all the requirements for a two-year degree.
High school juniors and seniors can finish all five core classes required for MBU freshmen.
Old Testament Survey    New Testament Survey    The Modern World
English Composition 1    English Composition 2
Online Courses
Be part of an online course.
Courses are designed
with flexible deadlines and
no mandatory meeting times.
Virtual Courses
Join a live college course.
Participate in classroom
discussions with MBU
students and faculty.
Everything you need to know about
Dual Enrollment

at MBU
AM I eligible to take dual enrollment courses from MBU?
Participate in Dual Enrollment beginning the summer after your sophomore year of high school by enrolling in college courses.
You can take just one class, complete a semester or year of college, or even earn an associate's degree. With the large tuition discount, you can save time and money.
Courses completed may be counted toward meeting high school requirements, at the high school administrator's discretion, and will count toward your future degree at Maranatha Baptist University.
Will my college credits transfer to other schools in the nation?
Maranatha has regional accreditation, which is the gold standard in the industry. Because of that, our credits are as transferable as any well-known university (e.g., University of Wisconsin, University of Michigan, etc.). That being said, it is always up to the receiving institution as to how they will use those credits. For example, a secular institution would almost certainly only use our Bible classes as electives. It is the responsibility of the student to check with the receiving institution to ensure our coursework will meet the specific requirements at the other school.
What courses should I start with?
You may take any course for which you meet the prerequisites; however, it is up to your school to decide what classes they want you to take to meet your high school requirements while earning college credit. It is always advisable for you to work toward a specific educational requirement, but that certainly is not mandatory.
You may browse our full selection of online courses to see what's available. Those most commonly used for dual-enrollment are:
English

HUEN 100

—

English Grammar
HUEN 121

—

English Composition 1
HUEN 122

—

 English Composition 2

Social Studies

HUHI 130

—

The Modern World
HUHI 141

—

U.S. History 1
HUHI 142

—

U.S. History 2

Math

ASMA 103

—

College Math
ASMA 105

—

Intermediate Algebra
ASMA 131

—

College Algebra
ASMA 136

—

PreCalculus
ASMA 143

—

Calculus 1

Science

ASSC 101

—

Concepts in Biology

—

 No lab component
ASSC 104

—

Concepts in Physics

—

No lab component
ASSC 106

—

Concepts in Biochemistry

—

 No lab component
ASSC 111

—

Human Biology

—

 No lab component
ASSC 120

—

General Biology 1

—

Lab component
ASSC 121

—

General Biology 2

—

Lab component
ASSC 226

—

Anatomy and Physiology 1

—

Lab component
EXPLORE THE FIRST YEAR GUIDE